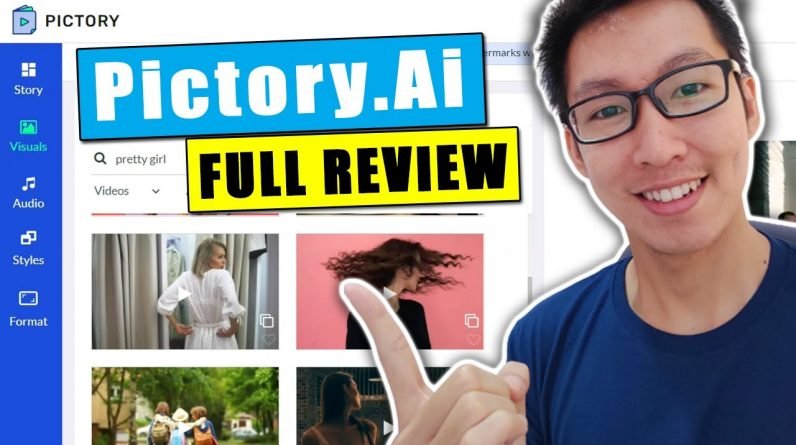 This is my Pictory review and full in-depth tutorial on how to use it. Get 20% OFF your Pictory subscription by using coupon code "PEC".
Use this link 👉 https://pictory.ai/?ref=edychandra
Pictory is an alternative to Vidnami, it helps you create high-quality video by using a script, article or even other people video.
In this Pictory tutorial, I show you how to come up with scripts, audio, text-to-speech and even syncing voice-over. I also show you how to use Murf Ai for natural sounding voice.
https://murf.ai?lmref=UbQjsw
IF you want the review, watch my full Murf Ai review here:
https://www.youtube.com/watch?v=tDIXzFbQm1g
How to Make YouTube Video Playlist:
https://www.youtube.com/watch?v=e6a5bnOXhX8&list=PL1eGYAxeRil1tkEX9q2grZcym_klAmG5O
⏰TIMESTAMPS:⏰
0:00 Intro
1:13 Article to Video
5:24 Visual to Video
7:18 Edit Videos with Voice using Text (Transcription)
8:11 Pictory Transcription
12:21 Script to Video
14:13 Changing Visuals
15:31 Adding Audio
16:27 Pictory & Text to Speech
18:48 Background Music & Upload Audio
19:43 Sync Entire Voice-over
20:30 Adjusting Voice-over
24:48 Readjusting the Visuals
25:47 Styles and Export
26:45 The End Result
29:18 Pictory Coupon 20% Off
30:25 What's more
Keyword Research Playlist:
https://www.youtube.com/watch?v=3BLxNUsokP8&list=PL1eGYAxeRil3NddKH1CjwqTjlTFKwgQ6s
Video Creation Playlist:
https://www.youtube.com/watch?v=zh5TfTkWF0Q&list=PL1eGYAxeRil3mup33V1YhSqcrSU17SnKp
Thumbnail Playlist:
https://www.youtube.com/watch?v=amE5GlQ5UEM&list=PL1eGYAxeRil0ywbNxiJ0EiFu5SbhjZ7HT
My Social Media Links:
http://instagram.com/edychandra96
https://www.facebook.com/EdyThephntom
👦 About Me 👦
My Name is Edy Chandra and on this channel I show you how to potentially make money online fast and how you can start earning income from YouTube as a Content Creator. If you're looking for work from home jobs or online jobs, make sure to hit that subscribe button.
AFFILIATE DISCLOSURE:
This video and description may contain affiliate links, which means that if you click on one of the product links, I'll receive a small commission. I won't put anything here that I haven't verified and/or personally used myself.